Old Mill Trade Days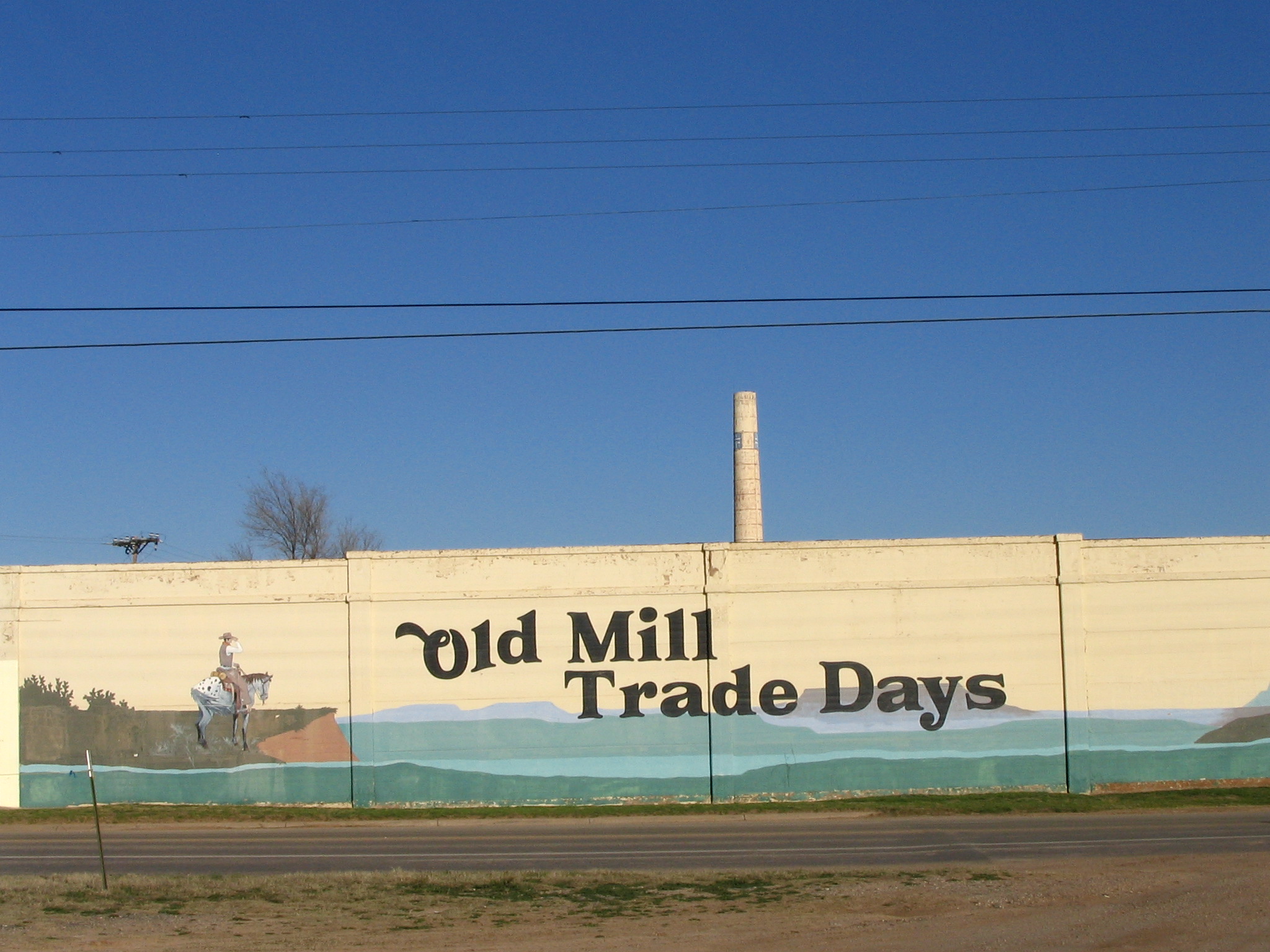 This is the the walls of Old Mill Trade Days.
Here is a small portion of information of the old Postex Mill.
Introduction
No other towns have what our wonderful Post has. Sure we have a couple of family restaurants that others don't have, but we are the only ones with an Old Mill Trade Days. This unique shopping mall is a lot like a fair, but instead of roller coasters, it has shops and much more.

History
Let's first start off with a little bit of history of Old Mill Trade Days. Old Mill Trade Days first opened to its visitors on April 28, 1994. Old Mill Trade days is located at the Historic Postex Mill, where most of its buildings date back to 1913, which is very amazing!

Trade Days Today
Ok, lets now focus on what Old Mill Trade Days is like today! Old Mill Trade Days has over 100,000 square feet of the Historical Mill. Venders that attend setup inside the two famous buildings and some setup outside. Free parking takes up about 50-acres of Trade Days. Ever since its first opening, Old Mill Trade Days is growing so well that almost 40,000 visitors and 200 venders attend each event. Old Mill Trade Days has became one of the best events mainly in eastern New Mexico and a lot of others! Old Mill Trade Days is a monthly occurrence, which is planned 9 a.m. to 5 p.m. on the first weekend of each month, (Friday, Saturday, and Sunday.) Most of the merchandise, which includes antiques, collectables, arts and crafts, clothing, jewelry and more, which you can not find at a skimpy mall, is mostly from Oklahoma, New Mexico, and of course our Lone Star State! There are also places where you could enjoy a meal. Most of the artwork are handmade and gorgeous. Live entertainment is also presented in Old Mill Trade Days. I really do know Old Mill Trade Days is going to effect the future for our community. For all we know maybe people from all around the world may come and maybe they do attend today.

Conclusion
Old Mill Trade Days is an amazing place for both friends and families. Its also a great place to just relax and enjoy one of the outdoor shows, shop, or just look around. Even though we have a "small" town, I am glad to say that we have an Old Mill Trade Days that is becoming a "huge" event in Post, Texas!